Summer has a way of making entertaining more relaxed and laid back.  Sunday brunch is a favorite at our house and a way for me to spoil my husband, too. The brunch is how we celebrate this special man and his day.
Pancakes are definitely the way to my man's heart, add a Bloody Mary and he is in heaven.
Whether you are celebrating your baby daddy, your daddy, your daddy in-law, well you get the idea, we know this Father's Day brunch will be the perfect start to the day.  
The Bloody Mary is made for day drinking, and a Bloody Mary bar at home is easy and so much fun.  Put together all of your favorite garnishes in mason jars and let your guests go wild.  The layers of flavors are what makes this cocktail a crowd favorite.  I make a basic tomato juice mixer and let each person decide how much alcohol (if any) and what flavors they want to add.  
Now, let's talk garnishes, the crowning glory of any cocktail.  Of course the basics are a must, celery, lemons, limes, olives and hot sauce are always expected.  You can make it over the top by adding some unexpected items to the bar. 
Shrimp, bacon and beef jerky are some of my favorites. You can prep everything a day ahead and put in the refrigerator.  This is where serving in mason jars comes in handy, easy set up and very easy clean up. 
Several heat options like tabasco, Sriracha, horseradish and jalapenos make a dangerous option for those who like a little fire to their drink. Add a variety of pickles, olives, okra and cocktail onions to make it fun and encourage your guests to enjoy themselves. 
Here is a recipe to serve about eight; if you are expecting more guests, just double it.  I like to mix the night before so the flavors have a chance to meld.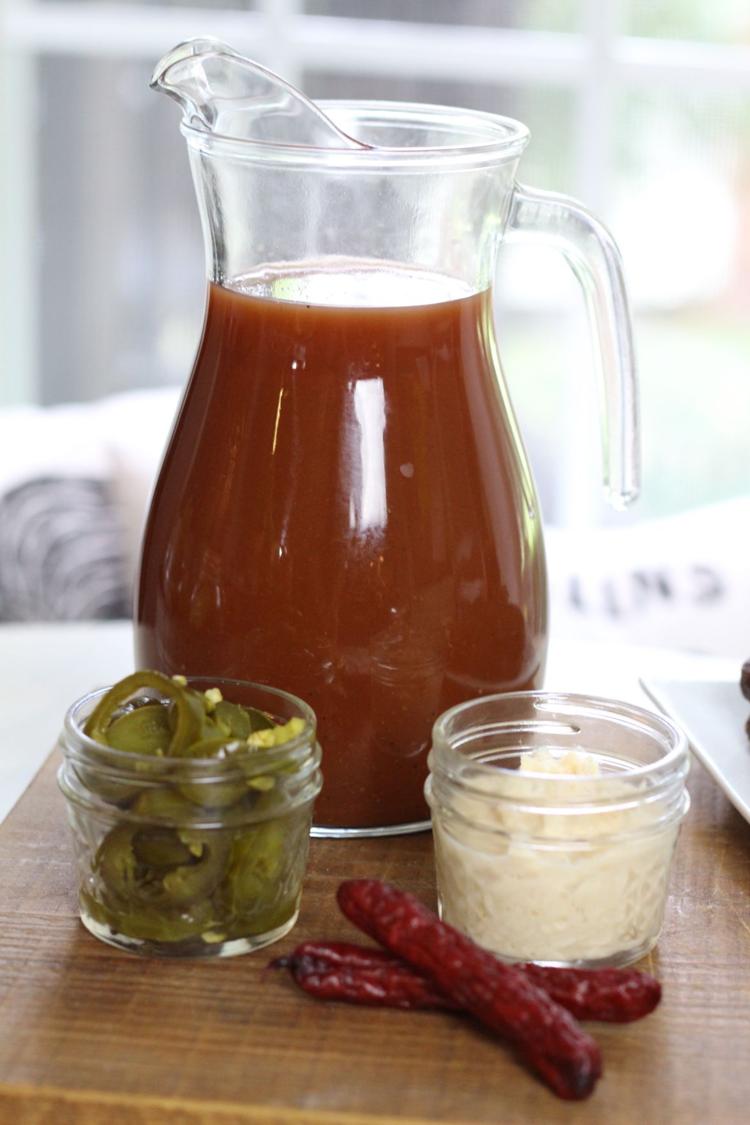 Bloody Mary Mix
24 ounces good tomato juice
Juice from medium size lemon and 
two limes
1 tablespoon Worcestershire sauce
1 ½ teaspoons seasoned salt
1 teaspoon celery salt
Black pepper to taste
If you want to premix with vodka then add 2 cups to the mixture when you are ready to serve.  
Cinnamon Apple Pancakes
1 ½ cup all-purpose flour
½ teaspoon ground cinnamon
2 teaspoons baking powder
2 tablespoons light brown sugar
1 cup whole milk
1 cup applesauce
1 large egg
1 teaspoon vanilla extract
2 tablespoons canola oil
Whisk together flour, cinnamon, baking powder and brown sugar.  In a separate bowl, mix milk applesauce, egg vegetable oil and vanilla and pour into dry ingredients.  Mix until combined (again don't overdo it).  Cook on griddle (or pan) at 325 degrees. 
Optional topping:  Add 2 tablespoons butter and 3 tablespoons brown sugar to a pan over medium-low heat.  Once butter is melted add cubed apples and stir constantly until apples slightly soften.  Spoon over pancakes and serve.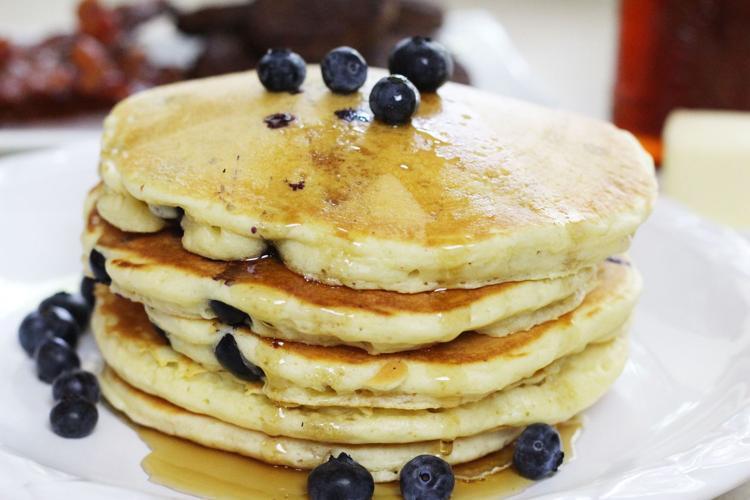 Blueberry pancakes
I use my basic pancake recipe and add the blueberries to them after I pour on griddle so I can make sure each pancake gets the perfect amount of berries.  I also do this with strawberries and blackberries depending on what is in season.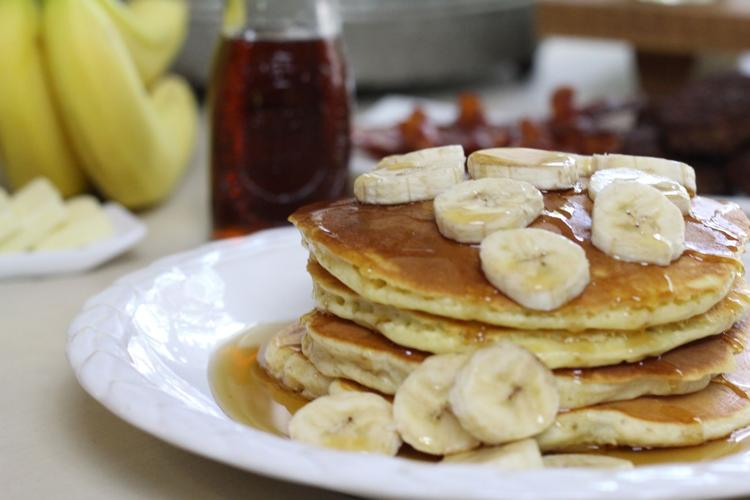 Banana Buttermilk Pancakes
2 cups buttermilk
2 large ripe bananas mashed
2 large eggs
2 tablespoons melted butter 
2 teaspoons vanilla extract
2 ½ cups all-purpose flour
1 tablespoon baking powder
½ teaspoon baking soda
½  teaspoon salt
¼ cup sugar
Whisk buttermilk, mashed banana, eggs, butter and vanilla in a bowl.  Mix dry ingredients and pour into bowl.  Mix until incorporated (don't overdo it). Let batter rest while you heat up griddle or pan to 325 degrees.  We like our pancakes big so I pour ½ cup batter on to griddle and turn when bubbles have formed and popped.  Plate and add sliced bananas on top.